Testosterone Brand Names
There are times when turning to name brand products are considered ideal in terms of quality and craftsmanship, but that is not necessarily the case when dealing with testosterone therapy. Today, many licensed and regulated US pharmacies can compound testosterone in-house following the same stringent guidelines and protocol that big pharma also uses. The benefit of this is in the cost savings that the individual will receive.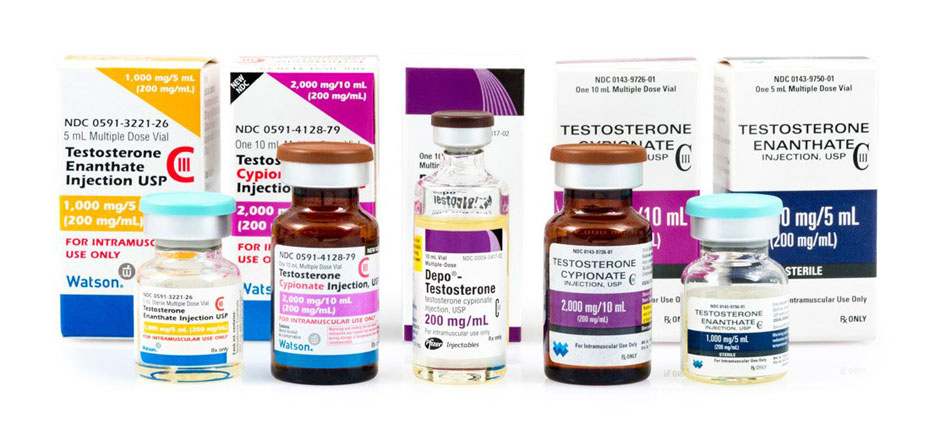 Many different options are available for treatment for Low T – the term use to describe the condition that occurs when testosterone deficiency is present in the body.
Testosterone cypionate injections, such as Depo-Testosterone and Watson (Actavis) are considered by most people to be the leaders in this field. In terms of name-brand recognition, the extra cost for these products is not always necessary. Depo-Testosterone is manufactured by Pfizer, one of the leading pharmaceutical companies in the world. Watson has been purchased by pharmaceutical manufacturer Actavis. Generically compounded testosterone cypionate injections, which are suspended in cottonseed oil just as the name brands, provide the same benefits at a lower overall cost.
Delatestryl and Watson are the most popular brand names of testosterone enanthate, which is suspended in sesame oil. This, too, can be compounded by a pharmacist for affordability and convenience.
AndroGel, Vogelxo, and Testim are topical name brands of testosterone that are applied to the shoulders and upper arms and are absorbed through the skin. Axiron is another topical solution, and this one is applied to the underarm area. Fortesta is applied to the thighs. An added warning about these topical products: care should be taken that no other person comes into contact with the treated area, and these products should not be used by women.
Other forms of treatment for Low T include the following:
Natesto is a testosterone nasal gel that is administered three times a day, intranasally, by depressing the pump one time in each nostril.
Androderm and Testoderm are adhesive testosterone transdermal patches applied for 24 hours at a time.
Striant is a tablet-like mucoadhesive form of testosterone that adheres to the inner cheek or gum area.
Among the newest forms of treatment that are available, we find testosterone undecanoate, offered as the brand name product Aveed. It is not yet recommended for this product to be included in at-home self-administration due to possible serious allergic reactions.
Top Rated Testosterone Brand Names
Men who are prescribed testosterone therapy will likely receive an injectable form of this bioidentical medication, as that is the most effective and affordable method of treatment. The top rated brands of testosterone injections are Depo-Testosterone by Pfizer (cypionate) and Delatestryl by Endo Pharmaceuticals (enanthate), with Watson Pharma's version of both forms of testosterone equally as good as per consumer reviews.
It is essential to point out, once again, that US pharmacy compounded versions of both types of injectable testosterone will follow the same stringent standards and guidelines, and provide the same superior results at a lower price.
Unlike testosterone cypionate which has a half-life of 10-12 days, testosterone enanthate has a half-life of 8-10 days. Both medications carry a sustained release time of 2 to 3 weeks. However, we have found that, in most cases, testosterone cypionate brings the best results for men dealing with Low T.
Testosterone Brands and Prices
When making a selection between the various testosterone brand names, price may play a factor for some people. Of course, there will always be individuals who will pay the higher cost for top rated Depo-Testosterone, but that is not going to be any better overall than opting for a generic, pharmacy compounded version of testosterone cypionate.
Here are some general guidelines for what to expect:
Pricing for Depo-Testosterone begins at $49.00 per week
The cost of Copmaind starts at $41.00 per week
These prices are based on a 10-week course of treatment prescribed by our doctor following blood analysis for Low T.
Aveed, a relative newcomer on the market, is still extremely high in price compared to the other top rated brands of testosterone that have already been discussed, and the allergen risks involved, plus the factor that it must be administered at a medical clinic eliminate it from our prescribed options.
In addition to this warning, there is also one other precaution that people should take when looking to purchase testosterone therapy. There are many types of injectables that are of medium or low quality that can be purchased through illegally operating websites on the internet. These "black market" operations often substitute inferior products, and even dangerous ingredients in what they provide. Avoid this trap by purchasing only name brand or safely compounded testosterone from licensed doctors and US pharmacies.
So Which is the Best Testosterone Brand?
From our experience here at National HRT, it can be said that you can never go wrong with Depo-Testosterone. However, Watson, as well as US pharmacy compounded options will work just as well. For individuals who are prescribed testosterone enanthate rather than cypionate, Delatestryl, Watson, and compounded injectables will all provide superior results.
Choosing from among the best testosterone brands is a highly personal decision. Our medical advisors at National HRT can provide guidance and support in making the right decision for your needs. Please feel free to ask any questions you may have about which type and brand of testosterone are best suited to your own needs.